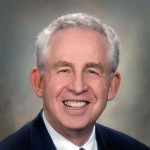 Tuesday at SEC Media Days in Hoover, Ala. SEC commissioner Mike Slive addressed the ongoing speculation about the creation of a new television network for the conference.
He gave the initiative a new name. "There has been a whole lot of speculation about Project X. Is it still a secret? I don't think so. But now we can call it Project SEC," he said.
Still, the commissioner remained mostly clandestine on the subject. "I'd love yo say more. I know you want me to say more. I will, though, before I get too much older," a smiling Slive remarked.