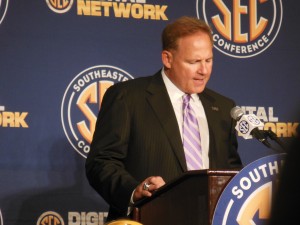 Hoover, Ala. – The second day at SEC Media Days 2012 featured six of the fourteen members of the conference. Florida, Mississippi State, Arkansas, Kentucky, Auburn, and LSU all met the media.
The day began with SEC coordinator of officials Steve Shaw addressing some aspects of college football from an official's viewpoint. He explained some of the new rule changes and outlined the points of emphasis for officials across the nation.
Shaw emphasized that the new rule changes on kickoffs are designed for player safety. On kickoffs, the ball will now be kicked from the 35 yard line, and play will begin from the 25 following touchbacks.
The national points of emphasis for officials in 2012:
Targeting and dangerous contact fouls
Unsportsmanlike conduct
Coaches' sideline behavior
The first coach to take the stage was Florida's Will Muschamp. He described his first year at Florida as 'frustrating' and 'disappointing.' He says winning 7 games last season was a 'minor miracle' when considering the turnovers and mistakes that were made.
Muschamp also took a shot at Georgia head coach Mark Richt on the subject of the Georgia/Florida rivalry game continuing to be played in Jacksonville. He said, "Coach Dooley never complained about it being there." Muschamp, of course, played for legendary Georgia coach Vince Dooley.
Next to speak was Mississipps State head coach Dan Mullen. He provided an optomistic outlook for his Bulldogs in 2012. He said the past few years, his teams have been really close to winning the West, and as a result, been really close to a national championship. "When you look, the great thing I guess in our program, the SEC West, we're not far off from there, which means we're not far off from the the national title," he said. That may be a bit of a stretch, coach. Before you make reservations in Miami, it would probably be good to beat a team from the West not named Ole Miss.
It was one of the first media appearances for Arkansas head coach John L. Smith since taking the job in the spring. Despite the fact that he will most likely be a one year coach in Fayetteville, Smith embraced the opportunity. "I guess there's something in there that says life is an adventure and let's make sure we take advantage of that adventure and don't miss out on anything," he said. But, he is by no means throwing in the towel. When asked if he wants to coach more than one year at Arkansas, he replied, "Well, certainly. Do I look stupid? Don't answer that question."
Kentucky head coach Joker Phillips looks to turn things around in Lexington this year. If he does not, his tenure in Lexington could be over after 2012. He underlined the win over Tennessee at the end of 2011 as a confidence builder for his team. He also made a point of embracing the success the Kentucky basketball team has had of late. "I think it was unbelievable advertising of our logo. Every time our basketball team went to the next round, playing in the Final Four. How many times did kids see the UK interlocking brand out there."
Auburn coach Gene Chizik led off the afternoon session. He focused on the goals he wants his team to accomplish. "We need to get off to a strong start this season. Our schedule is definitely tough in the month of September. You open up with Clemson, then Mississippi State, which is always tough, then a home game with Louisiana Monroe, and then LSU comes marching in."
The final address on Wednesday came from LSU coach Les Miles. He emphasized the talent the Tigers' return this year. He also indicated that the humiliating loss to Alabama in the BCS Championship Game in January would serve as a motivational tool for his team. He clearly believes his offense can rely on the stable of running backs who are returning from last year.