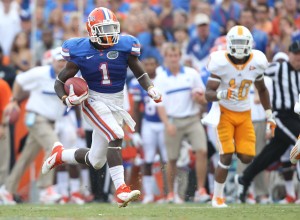 Will Muschamp's first year in Gainesville produced some growing pains for Florida. But, I think the win over Ohio State in the Gator Bowl, which gave the Gators a final record of 7-6, has done a lot to boost confidence about the 2012 season. Expectations are always high for the Gators, and there needs to be clear amount of improvement from year one to year two of Muschamp's leadership.
The Gator defense will be talented and deep enough to have a nice year. The biggest question is who will the playmakers on offense be? That is where Florida struggled mightily in 2011. With Charlie Weis in Lawrence, Kan., though, there should be a new attitude on that side of the ball.
2012 Forecast:  There will be highs and lows, but I think the Gator team will be significantly improved in toughness, run defense, and creativity on offense this year. All signs during the offseason so far have pointed toward Muschamp turning things around in Gainesville. It has to show up on the field, though, to be legitimate.
Offensive player to watch:  #23 Mike Gillislee – SR – running back
Defensive player to watch:  #3 Jelani Jenkins – JR – linebacker
Sept. 1 – Bowling Green (Gainesville) – Win 34-7
Sept. 8 – Texas A&M (College Station) – Win 17-10
Sept. 15 – Tennessee (Knoxville) – Win 24-14
Sept. 22 – Kentucky (Gainesville) – Win 37-14
Sept. 29 – Off
Oct. 6 – LSU (Gainesville) –Loss 28-20
Oct. 13 – Vanderbilt (Nashville) – Win 24-17
Oct. 20 – South Carolina (Gainesville) –Loss 31-21
Oct. 27 – Georgia (Jacksonville) – Win 27-20
Nov. 3 – Missouri (Gainesville) – Loss 30-21
Nov. 10 – Louisiana-Lafayette (Gainesville) – Win 37-3
Nov. 17 – Jacksonville State (Gainesville) – Win 47-0
Nov. 24 – Florida State (Tallahassee) –Loss 20-14
Projected record: 8-4 (5-3)
An 8-4 record would be quite an achievement when you consider the toughness of the schedule. I think the biggest game for Florida is going to be the matchup on October 13 against Vanderbilt. Two out of the first three games are conference road games; that is tough. I do think the Gators will knock off Georgia, but South Carolina and LSU are on another level. And, I think Florida will catch Missouri at the wrong time.
*Home games are in BOLD