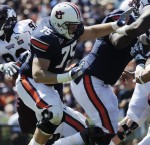 2011 was not a disastrous year for Auburn. The biggest issue was not the amount of losses; it was the fashion in which the Tigers lost to the top teams in the SEC and Clemson. The bright spot last season was the victory over South Carolina in Columbia.
The Tigers have new coordinators on both the offensive and defensive sides of the football. Expect to see an improved defense that will have the ability to keep the team in games. Because of that, I don't think the kinds of blowouts delivered to Auburn last season will happen in 2012. On offense, the big question surrounds the quarterback position. Whether it is Keihl Frazier or Clint Moseley, plays will have to be made in order for the Tigers to have success.
2012 Forecast:  I think it will be an improved Auburn team from last year. However, there will still be obstacles too high to be overcome. I just don't see the kind of playmakers on offense for an SEC Championship run. Plus, any team in the SEC West will endure a brutal run of contests that will leave it wounded.
Offensive player to watch:  #1 Trovon Reed – SO – wide receiver
Defensive player to watch:  #55 Cory Lemonier – JR – defensive end
Sept. 1 – Clemson (Atlanta) – Win 27-10
Sept. 8 – Mississippi State (Starkville) –Loss 31-30
Sept. 15 – Louisiana-Monroe (Auburn) – Win 45-10
Sept. 22 – LSU (Auburn) –Loss 23-21
Sept. 29 – Off
Oct. 6 – Arkansas (Auburn) – Win 28-13
Oct. 13 – Ole Miss (Oxford) – Win 30-13
Oct. 20 – Vanderbilt (Nashville) – Win 26-14
Oct. 27 – Texas A&M (Auburn) – Win 24-10
Nov. 3 – New Mexico State (Auburn) – Win 34-7
Nov. 10 – Georgia (Auburn) – Win 28-21
Nov. 17 – Alabama A&M (TBA) – Win 53-6
Nov. 24 – Alabama (Tuscaloosa) –Loss 27-17
Projected record: 9-3 (5-3)
Two close losses in the early part of the year to Mississippi State and LSU could discourage Auburn fans, but I think the Tigers will regroup and knock off Arkansas and Georgia coming down the stretch. I think this outcome will be a dramatic improvement from 2011.
*Home games are in BOLD