11 Arkansas – Coach Bobby Petrino is out and Coach John L. Smith is in.  The one piece that is vital to the Razorbacks' success is QB Tyler Wilson.  But don't look for the hogs to be just an air attack they have some very capable rushers in Knile Davis, Dennis Johnson and Ronnie Wingo.  Wilson will have some talented targets in WR Cobi Hamilton and TE Chris Gragg.  They will catch Alabama and LSU in their own hog pen.  The big question will be on defense; however, there is no question about LB Alonzo Highsmith.  Success in Fayetteville may depend on whether calm can rise above the chaos coming from arrest of players and a tryst by the coach.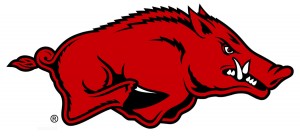 12  Clemson – The Tigers won the ACC last year for the first time in 20 years.  This year they should have an explosive offense, but their defensive resume includes giving up 70 points in their last game.  Can DC Brent Venables help transform a leaky defense that gave up over 30 points 7 times last year?  DE Malliciah Goodman should help.  Their high octane offense will include RB Andre Ellington, WR DeAndre Hopkins and Sammy Watkins (after he serves his 2 game suspension), and QB Tajh Boyd.  We discover quickly if these Tigers will impress in 2012 as they take on the Tigers of Auburn in their first game.  The championship of the Atlantic Division of the ACC should be decided when Dabo Swinney takes his troops south to meet FSU in Tallahassee.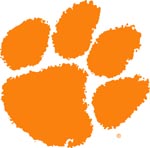 13  Oklahoma State – WR Justin Blackmon is gone!  QB Brandon Weeden is gone!  RB Joseph Randle (who rushed for 1216 yards last year) will be back!  OL Lane Taylor will be back!  CB Broadrick Brown should lead the way in helping the 2012 defense be a little better.  K-P Quinn Sharp will be a real weapon (except against Iowa State).  The Cowboys will be led by a Freshman QB, Wes Lunt.  The main stay in Stillwater is the HC Mike Gundy.  Can they duplicate their 12-1 record of last year?  Probably not but they should be good again and will be in the running for the Big 12 Championship.