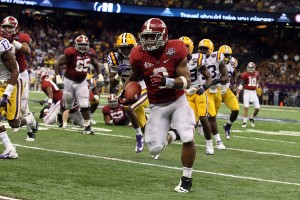 In one of the most unusual conclusions to a college football season, the 2011 Alabama team rematched with divisional-rival LSU for the BCS Championship. With four first-round NFL Draft picks taken from last year's squad, there will be voids to fill for the Crimson Tide, particularly on defense. On the other hand, quarterback A.J. McCarron developed his play nicely throughout the 2011 season.
Alabama enters 2012 with an experienced quarterback, a highly skilled offensive line, and a solid group of running backs (albeit no individual with the talent of Mark Ingram or Trent Richardson). At the same time, there are still questions about the wide receiver position. And while the defense is not as stacked from top to bottom as it was last season, there are a few experienced starters, as well as some talented young players, returning.
2012 Forecast:  The schedule is tough, as always in the SEC West, and Michigan will not be an easy opening game. Nick Saban's main task will be keeping the psyche of his team from the mentality that gave the 2010 team its three losses.
Offensive Player to Watch: #75 Barrett Jones – SR – offensive lineman
Defensive Player to Watch: #37 Robert Lester – SR – safety
Sept. 1 – Michigan (Arlington, Texas) – Win 27-17
Sept. 8 – Western Kentucky (Tuscaloosa) – Win 37-10
Sept. 15 – Arkansas (Fayetteville) – Win 28-20
Sept. 22 – Florida Atlantic (Tuscaloosa) – Win 45-3
Sept. 29 – Ole Miss (Tuscaloosa) – Win 21-7
Oct. 6 – OFF
Oct. 13 – Missouri (Columbia) – Win 35-17
Oct. 20 – Tennessee (Knoxville) – Win 17-16
Oct. 27 – Mississippi State (Tuscaloosa) – Win 20-10
Nov. 3 – LSU (Baton Rouge) –Loss 27-21
Nov. 10 – Texas A&M (Tuscaloosa) – Win 24-14
Nov. 17 – Western Carolina (Tuscaloosa) – Win 49-7
Nov. 24 – Auburn (Tuscaloosa) – Win 27-17
Projected record: 11-1 (7-1)
When a team comes off of a national championship season, there will be turbulence. That, I think, will be displayed in the close call against Tennessee, and of course, the loss to LSU. I think it will indeed be the same exact record result as last year. The difference this year is the Tide will not be blowing out every opponent not named LSU.
*Home games are in BOLD