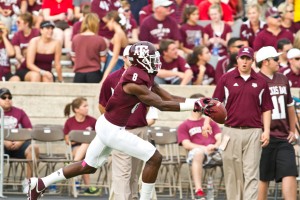 Week 1 provided some very interesting action in college football. Now that almost every team has played an opening contest, the season can begin to take more shape.
Here are 5 games that are worth watching this weekend:
(22) Florida at Texas A&M – ESPN 2:30
Chronologically, this is the first of the two SEC openers for the newcomers to the conference. The Gators looked much less than impressive in their 27-14 victory over Bowling Green. There will need to be some improvement on offense if UF expects to escape College Station with a win. For Texas A&M, emotions will be high for the first SEC conference. But also remember that this is the first overall game this season for the Aggies. The opener against Louisiana Tech was rescheduled until October. That could present some issues for A&M since it will be breaking in a completely new system under first-year head coach Kevin Sumlin.
(12) Nebraska at UCLA – FOX 6:30
This is one I will be paying close attention to for a number of reasons. First, I thought Nebraska was one of the best looking teams in week 1. A 49-20 beat-down of Southern Miss is nothing to be ashamed of, and I think the Cornhuskers are in for a nice run this year. On the other side, UCLA is supposed to be improved this year. Not much can be gleaned from the 49-24 beating of Rice. Bear in mind that since the Bruins played on Thursday night, they will have more time to prepare for Nebraska. Plus, the game is being played in Los Angeles, so this is going to be a major test for Bo Pelini's football team.
(7) Georgia at Missouri – ESPN2 6:45
I think this is the biggest game of the weekend. Georgia has been given a whole lot of love in the polls (even the Bunn Sports Power Rankings), despite the fact that it seems to be an annual disappointment. Need I bring to mind the 0-2 start last year? Missouri supporters have been counting the minutes and hours until this game. They believe their team can compete for the SEC East, and there will be no truer test of that capability than Saturday night. It will be a packed house with plenty of energy and intensity. Both teams are formidable opponents. I think it will come down to a late fourth quarter play or coaching decision.
Auburn at Mississippi State – ESPN 11:00
If you follow SEC football closely, you are probably aware of the cliché about Dan Mullen. "He has never beaten an SEC West team not named Ole Miss," which is true. This weekend, though, provides him a golden opportunity to permanently scrap that refrain. For Auburn, Gene Chizik has to guard against his team becoming too depressed after only one week of football. The loss to Clemson was a tough one, but it does not kill the season for the Tigers. To win Saturday, the Tigers will have to show major improvement in tackling and protecting  quarterback Kiehl Frazier.
(25) Washington at (3) LSU – ESPN 6:00
With all of the attention focused on the first SEC games for Texas A&M and Missouri, this game has been shoved under the rug to some extent. But, I think it has a chance to be a competitive game. This will be the first look at just how good LSU is. Washington will probably be more competitive than most think, but the Tigers should still win the game. After all, it is played in Tiger Stadium at night.