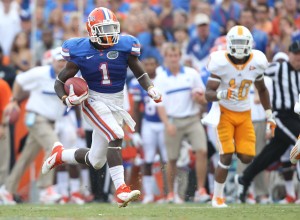 Week 3 in college football features some significant contests that should be highly entertaining.
Here are five games to watch (note: rankings are based on the Bunn Sports Power Rankings):
(1) Alabama at Arkansas
This game lost a lot of prestige when then 8th-ranked Arkansas was upset by Louisiana-Monroe in overtime 34-31 last week. That was a low point for the Razorback squad. Then again, those players have endured similarly as brutal circumstances already this year when head coach Bobby Petrino was fired. I'm sure just about every Hog fan wishes he would have been in charge of the team Saturday night when the Warhawks began to come from behind.
Arkansas still has a lot of talent and is capable of being fairly competitive with Alabama. But, it was always going to be an uphill battle. With the psychological issues that you know are going on with Arkansas players, I just don't think the Razorbacks will be able to have a lot of success. Will star quarterback Tyler Wilson play? Who knows. Regardless, Alabama should roll.
(25) Notre Dame at (10) Michigan State
It has been a long time since Notre Dame had this much excitement around the first couple of weeks in the season. This game will be very competitive. Michigan State has been tested, and the Spartans passed that test against Boise State. Because this game is at night and played in East Lansing, I tend to lean toward Mark Dantonio's team.
(3) USC at (20) Stanford
This game turned out nicely for Stanford last year. I doubt it will this time around. USC simply has too many weapons for the Cardinal to be competitive. This is better competition than the Trojans have come up against thus far, but it is not enough to be dangerous. If you are thinking about picking the upset in this one, I have a word for you:  Don't!
(15) Texas at Ole Miss
Last week it was Louisiana-Monroe over Arkansas. This is the game that I think could be upset city in week 3. I think Hugh Freeze has done a better job than most people realize to this point. Regardless, his team has no business even giving Texas a scare. But, I am not sold at all that Mack Brown has done the kind of program building that needs to happen in Austin lately. Therefore, I say Ole Miss can win the game. Yes, the game. If so, it's a big feather in the caps of Freeze, the SEC, and Ole Miss' program. It will also probably be the beginning of the end for Mack Brown at Texas.
(16) Florida at (24) Tennessee
How long has it been since a game of this magnitude was played in Neyland Stadium? The Vols have once again, at least for now, vaulted themselves back into the SEC and national spotlight. ESPN's College Gameday will be live from Tennessee's campus Saturday morning. Derek Dooley has not had a lot of positive stretches since he became the head coach in Knoxville, but he now has an opportunity to win a lot of support. But, don't count Florida out. The Gators would love nothing more than to quietly sneak into Big Orange country and spoil the party. I think Tennessee will ultimately be victorious, but there is no doubt that I will be watching Saturday night.