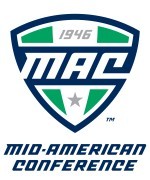 With Big Ten Football drifting so badly, the conference had to recruit Maryland and Rutgers to raise its stock. As a result, there is a void in the Midwest for top-notch football. But don't fear; here come the Zips, Rockets, Bobcats, Cardinals and the Huskies to the rescue.
With Kent State and Northern Illinois both holding 11-1 records, the Mid American Conference could be on the doorstep of having the most impressive conference championship game outside of the SEC's. No, the conference will not have a team playing for a spot in the BCS Championship Game. For that matter, the Big Ten, Big East, or ACC won't either.
The MAC has had four different teams ranked in the top 25 during the year. Currently, Kent State is 23rd and Northern Illinois is 24th in the AP Poll. There are three other MAC teams having strong seasons with 8-3 records: Ball State with wins over Indiana (Big Ten) and South Florida (Big east); Toledo with a win over Cincinnati (Big East); and Ohio University which was ranked nationally most of the year and holds a win over Penn State from the Big Ten.
Kent State, MAC West Division champion, defeated Rutgers (18th in the BCS Standings) giving the Scarlet Knights their only loss of the season.
Northern Illinois, MAC East Division champion, defeated Kansas from the Big 12 and suffered its only loss against Iowa from the Big Ten by a narrow 18-17 margin.
Some MAC Facts:
The conference was established in 1946.
Nine of the twelve full members are in the states of Michigan and Ohio. (Massachusetts is a football only member)
The MAC ranks highest among all NCAA Division 1 FBS conferences in graduation rate.
The MAC has been referred to as the "conference of quarterbacks" because of the accomplishments by numerous former players in the NFL.
Ohio is the only remaining charter member.
The University of Akron has the largest enrollment — 29,252.
Jordan Lynch of Northern Illinois leads the MAC in rushing offense with 1,504 total rushing yards, which is an average of 136.7 yards per game and 7 yards per rush.
When Kent State and Northern Illinois play in Detroit on November 30th for the MAC Championship, it should be quite a game, and it will bring a lot of much-needed recognition and pride to Midwest football.