Longtime Alabama Crimson Tide athletic director Mal Moore passed away Saturday at the age of 73. No man had more of an impact on the direction of Crimson Tide athletics than Moore.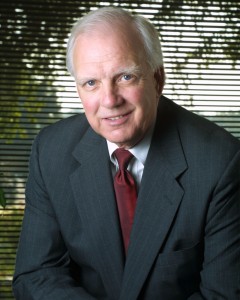 He was born in Dozier, Ala. in 1940. His winning ways at Alabama started early as he earned a scholarship to play for the Tide in 1958, the year Alabama hired a new head football coach — Paul 'Bear' Bryant.
As a player, Moore was part of the 1961 Alabama squad that captured the school's first national championship in twenty years.
As an assistant coach, he spent a year at Montana State before becoming part of coach Bryant's staff at Alabama until 1982. During that time, he was part of five more football national championships. He then spent four years at Notre Dame and three years at the Arizona Cardinals.
In 1990, new head coach Gene Stallings hired Moore back to his alma-mater, where he remained for the long haul. As the Tide's offensive coordinator, Moore coached on another national championship team in 1992.
In 1994, he transitioned to an administrative role; he served as assistant athletic director until 1999, when he became Alabama's athletic director.
During the first several years of Moore's time as A.D., the Alabama football program was enduring lean times. It saw four different head coaches in as many years. By 2006, consistent mediocrity had frustrated many Tide supporters.
In pursuit of restoring Alabama football to prominence, Moore flew to Miami in an effort to lure then Dolphins head coach Nick Saban to Tuscaloosa. As we know, it worked, and Alabama has won three BCS Championships in the last four years.
Football was not the only successful sport during Moore's tenure. Alabama won the gymnastics national championship in 2002, 2011 and 2012. It won a national championship in both softball and women's golf last year.
There are hardly any mountain top moments in Crimson Tide history that did not have input from Mal Moore. His legacy in Alabama athletics is — truly — second to none. But perhaps his greatest accomplishment was his reputation of genuineness.
"Coach Moore was one of the kindest people you'd ever meet," said Jay Barker, who played quarterback for Moore in the early 1990s. "He was a true gentlemen, and it translated to the way he coached and ran the athletic department."
In today's world of college athletics, it isn't difficult to find dirt on prominent figures. I defy you to find one person who has a negative word to say about Mal Moore. He was the epitome of a southern gentleman; he preached class in his roles as coach and administrator, and he implemented it in his everyday life.
Reflective comments poured in Saturday after the news was announced.
From former Tide players:
Thoughts and prayers going out to the family of Mal Moore. His contributions and passion to the University will never be forgotten.

— Jeremiah Castille (@J_Castille) March 30, 2013
I'm heartbroken about the loss of Mal Moore. Incredibly disappointing news. #RIPMal

— Greg McElroy (@GVMcElroy) March 30, 2013
Coach Moore was a great man who invested so much into his school, his coaches, his staff, his players, and his family. He will be missed.

— Barrett Jones (@BarrettAJones) March 30, 2013
From current Tide players:
Mal Moore was not only our athletic director we practically grew up in same area just ten min apt.. Taught me alot through my journey at ua.

— NICO JOHNSON (@JOHNSON35BOY) March 30, 2013
RIP Mal Moore 🙏 men like you are the reason why I chose to play for this University . #Legend🅰🐘🏈

— Derrick Henry  (@KingHenry_2) March 30, 2013
R.I.P Mal Moore. You will be missed dearly by all who knew you..

— Kenyan Drake™ (@KDx17) March 30, 2013
Coach Mal Moore will be missed so much. I love you coach & know you will be watching over us from above. We will always remember you #loveU

— AJ McCarron (@10AJMcCarron) March 30, 2013
Thank you for everything you've done for this entire University Coach Moore your a inspiration to us all and even more u were a great man!

— Vinnie Sunseri (@vsunseri3) March 30, 2013
From the governor of Alabama, Robert Bentley:
Coach Moore will be deeply missed. I've known Mal for over 30 years and have always considered him a good friend as well as a good man.

— Gov. Robert Bentley (@GovernorBentley) March 30, 2013
Mal was devoted to UA Athletics, and he will also be remembered for his dedication to his family.

— Gov. Robert Bentley (@GovernorBentley) March 30, 2013
Mal Moore made a positive impact on our entire state. I want to offer my deepest condolences to his family during this time.

— Gov. Robert Bentley (@GovernorBentley) March 30, 2013
From Auburn AD Jay Jacobs:
Been reflecting today about Mal Moore. A great man, friend and true professional. He will be deeply missed my many.

— Jay Jacobs (@jayjacobsauad) March 30, 2013
Continued thoughts and prayers to the Moore family and everyone with @UA_Athletics

— Jay Jacobs (@jayjacobsauad) March 30, 2013
From noted Alabama fan and MSNBC host Joe Scarborough:
My family's prayers are with Mal Moore's family on the passing of Coach Moore. He was a very good man dedicated to his family and Alabama.

— Joe Scarborough (@JoeNBC) March 30, 2013
From Alabama play-by-play announcer Eli Gold:
The loss of Mal Moore impacts us all on so many levels. As wonderful a coach and administrator as he was, he was also class personified. RIP

— Eli Gold (@EliGoldBama) March 30, 2013
Head football coach Nick Saban released a statement:
"Mal was truly a special person in every sense of the word. We can talk about all the championships Mal has been involved with, but I think what will be remembered most was the man he was. He always put the best interests of others ahead of his own, he carried himself as a first-class gentleman, and he helped bring out the best in those around him.

"Mal was an outstanding leader in terms of all he did for Alabama athletics. Most importantly, he was a great friend to me and my family. Mal was the number one reason we decided to make the move to Tuscaloosa.

"Our thoughts and prayers are with his family, especially his daughter Heather. There's no question we have lost a great man today. What won't be lost is Mal's legacy in serving our University to make it a better place today and in the future. Nobody genuinely cared more about the Crimson Tide than Mal did. Mal has positively impacted athletics at Alabama unlike anyone ever has or probably ever will."
There have been many, many more comments about the kind of man he was.
The Crimson Tide athletic program will continue to move forward, but Mal Moore's impact on it will never be forgotten.
The coaches who have won national championships have statues located outside of Bryant-Denny Stadium. Mal Moore does not. If you had asked coach Moore if a statue of himself should be built, he would have undoubtedly refused out of his genuine humility. But in reality, he does have a statue. It isn't built with stone or bronze; rather, it is the proud brand that is simply known as the Crimson Tide.