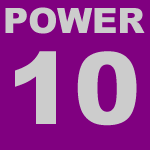 My Power 10 will be a weekly feature at BunnSports.com. It will rank the teams that in my opinion are the 10 best in the country. It is based on the accumulated resume of each team. As a result, this week will only reflect one week of play. There are likely to be sporadic movements in the Power 10 from week to week.
1. Alabama (win 35-10 over Virginia Tech)
The Crimson Tide came into the season as the heavy favorite to once again win the BCS Championship, but week one seemed to provide a more challenging test than many initially thought. The offensive numbers were mediocre at best for the Tide. Needless to say, things will need to be better on September 14th, when Nick Saban's squad meets Texas A&M.
2. Clemson (win 38-35 over Georgia)
Clemson's outstanding performance in its 38-35 win over Georgia earns it the second spot in this week's Power 10. The offensive attack with quarterback Tajh Boyd and wide receiver Sammy Watkins is very formidable and will be difficult for any ACC defense to deal with. Again, this poll will change as more results are accumulated. But after week one, Clemson's number two.
3. Oregon (win 66-3 over Nicholls State)
The Ducks beat Nicholls State 66-3 Saturday. In other words, they have yet to start the season. Things will get more competitive for Mark Helfrich's squad as they travel to Virginia this week before hosting Tennessee in week three.
4. South Carolina (win 27-10 over North Carolina)
Jadeveon Clowney's performance has gotten more attention than the fact that South Carolina won 27-10 over a rising North Carolina program. To me, the Gamecocks' looked like the best team in the SEC East in week one. I think they have a shot at being the best defense in the SEC this year.
5. Texas A&M (win 52-31 over Rice)
Like it or not, Texas A&M is a top team as long as Johnny Manziel is playing quarterback. He adds an entirely separate dimension to the Aggie offense. But A&M's struggles presented themselves Saturday on the defensive side. Giving up 509 yards to Rice is not a good start, but we must also take into account the absence of six defensive starters from the game.
6. Stanford (off)
Stanford was my preseason pick to play in the BCS Championship Game. The Cardinal did not play in week one and will open with San Jose State Saturday.
7. Ohio State (win 40-20 over Buffalo)
Ohio State won with comfort over Buffalo Saturday, but I was not left with the impression that the Buckeyes are a great football team, yet. But that's just for now. I look for Urban Meyer's team to make improvements over the next two weeks. This week, San Diego State comes to Columbus. The Buckeyes then travel to Berkeley to play Cal in week three.
8. Oklahoma State (win 21-3 over Mississippi State)
Oklahoma State earned being in the Power 10 by beating an SEC team and doing it in convincing fashion. The Cowboys moved the football and did everything on offense that you would expect from a Mike Gundy-coached team. But the thing that surprised me the most was the ability of the Cowboy defense to shut down Mississippi State's offense. They held the Bulldogs to 333 yards and only three points.
9. LSU (win 37-27 over TCU)
LSU's offense moved the ball effectively Saturday on the team that boasted the top defense in the Big 12 last year — TCU. The Tigers' defense played better than the final score indicated. Les Miles' team has the tools to be competitive in the SEC and nationally. The only question will be about navigating the rigorous schedule.
10. Louisville (win 49-7 over Ohio)
I think Louisville is very good. I know Teddy Bridgewater is very good. The question is how good are the Cardinals in comparison to the other top teams. That is a question that will be revealed little by little as their schedule unfolds. Don't be surprised if Louisville's position in the Power 10 (or lack thereof) fluctuates quite a bit as the year continues.