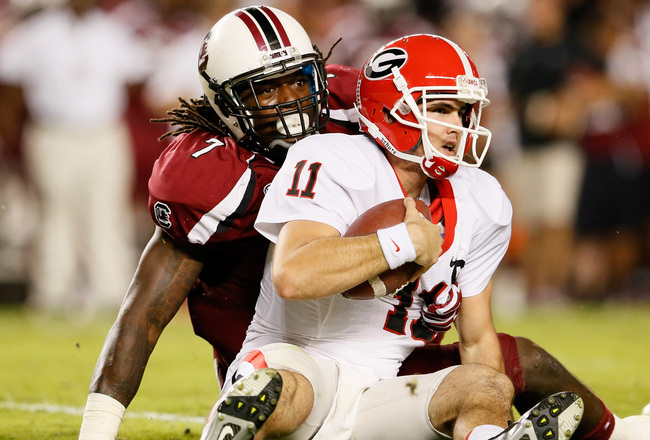 As we look toward week two, there aren't a ton of matchups that jump off of the page. There are several, but not many. That means one of two things:  It will be a very boring weekend, or it will be one of those crazy weekends full of the kinds of upsets that have made college football so entertaining over the past couple of years. Here are five games I'm paying attention to.
Florida at Miami (11 – ESPN)
This game promises to be interesting. Both teams boast solid defensive play, which means the team that can move the ball enough will probably win (that's breaking news, I know). I doubt we will see many big plays. Florida's defense is better than Miami's, but I think Miami's offensive production will probably be more effective than the Gators'. If Jeff Driskel can make a lot of big plays in the passing game, Florida will most likely win. But I don't think he will be able to do that. In a low-scoring slugfest, I like the 'Canes to take a major step toward rehabilitating their program with a win.
Prediction: Miami 21 Florida 13
Oregon at Virginia (2:30 – ABC)
Virginia surprised some people with its 19-16 beating of BYU in week one. Perhaps the Cavaliers are better than we expected. We will get a chance to find out just how much Mike London's team has improved when it welcomes third-ranked Oregon to town. Conversely, this will be a fantastic opportunity for us to find out how Mark Helfrich's Ducks perform when they are under fire in a hostile environment. I like Oregon to carry the day, but don't be surprised if Virginia is in the game late.
Prediction: Oregon 32 Virginia 24
South Carolina at Georgia (3:30  – ESPN)
It's only the second weekend of the season, but this game will mean a lot in deciding which team represents the SEC East in Atlanta. Much has been made about the week one play of Georgia quarterback Aaron Murray and South Carolina defensive end Jadeveon Clowney. And while I think those two will have a significant impact on the game, neither will make it or break it for their team. I think this game comes down to the matchup between Georgia's defense against South Carolina's offensive attack. The Bulldog defensive line is going to have to be significantly improved from a week ago to create a more volatile pocket for Connor Shaw. If they don't, I think Shaw and the Carolina offense could light Georgia up, much like last season.
Prediction: South Carolina 31 Georgia 27
West Virginia at Oklahoma (6 – FOX)
Which one of these teams will start its season off with a conference win? Last year, West Virginia started brilliantly. Indeed, some were already penciling the Mountaineers in for the championship game after week five. That was before a calamitous stretch in which Dana Holgorsen's Mountaineers team lost five straight. After a 34-0 win over Louisiana-Monroe in week one, some wonder if this is the year Bob Stoops' Sooners get back to prominence. This will be a major test for Oklahoma and an opportunity to prove a lot.
Prediction: Oklahoma 41 West Virginia 28
Notre Dame at Michigan (7 – ESPN)
Notre Dame coach Brian Kelly doesn't think the Michigan/Notre Dame series is a relevant rivalry anymore. He's wrong. When his team files into Michigan Stadium Saturday night, they will see an atmosphere that will let them know that the rivalry is still very relevant. The Irish played well enough but didn't overwhelm in their 28-6 opening win over Temple. Michigan beat a depleted Central Michigan team 59-9. Wolverine quarterback Devin Gardner was 10 of 15 for 162 yards and a touchdown. But he also threw two interceptions, which are glaring in ahead of this game. I think it will be a close game. On a neutral site, I would probably lean toward the Irish, but I can't go against Michigan in the Big House at night.
Prediction: Michigan 27 Notre Dame 26