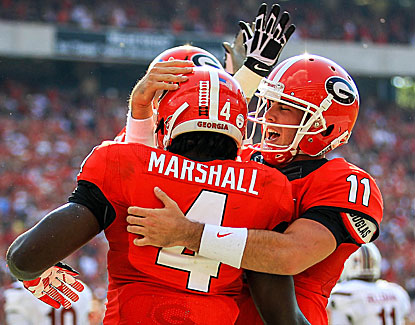 Surprise of the week: Perhaps no team was put on upset alert more than Tennessee in week two. But the Vols did not allow it to deter them. Bobby Petrino's Western Kentucky team is good, and the Volunteers handled it with ease. The most positive aspect for UT fans was the performance by the defense, which intercepted WKU five times.
Disappointment of the week: Either South Carolina's defense didn't make it to Athens or it was vastly overrated before the season. I'm going with the latter, and I will willingly admit that I was part of that illegitimate hype. Jadeveon Clowney was a no-show in perhaps the biggest game of South Carolina's regular season, and the entire unit allowed Georgia quarterback Aaron Murray to do what he pleased through the air.
Performance of the week: Georgia quarterback Aaron Murray has been the subject of a ton of criticism over his lengthy career in Athens because of his perceived inability to win big games. He won a huge one Saturday, throwing for 309 yards and 4 touchdowns.
Alabama (off)
Alabama had the week off as it prepares to travel to College Station next week and face Johnny Manziel and Texas A&M.
Arkansas (won 31-21 over Samford)
This one was your typical growing pain game that comes with a first-year head coach. It was bound to happen, and it may happen again. The good news for Hog fans is that their team was able to pull off the victory, despite trailing late in the game.
Auburn (won 38-9 over Arkansas State)
Auburn's win over Arkansas State was a good outing for the Tigers. Quarterback Nick Marshall seemed to find a passing groove. Another bright spot for Gus Malzahn's offense is the emergence of a three-pronged rushing attack between Corey Grant, Tre Mason, and Cameron Artis-Payne. The Tigers' defense did give up some lengthy plays but tightened up when the Red Wolves reached scoring position.
Florida (loss 21-16 to Miami)
It was a brutal week for the Florida offense. It turned the ball over five times, including two interceptions by quarterback Jeff Driskel. Miami was clearly on a mission to stop the run, which it did, holding the Gators to 122 rushing yards. Florida offensive coordinator Brent Pease is going to have to make some major adjustments and improvements before SEC play begins. The Gators now get a much-needed off week before welcoming Tennessee to Gainesville in week four.
Georgia (won 41-30 over South Carolina)
I was very impressed with Georgia's win over South Carolina. Todd Gurley's 134 yards and one touchdown launched his name into the Heisman discussion. Much-maligned Aaron Murray had a sensational performance in which he threw for over 300 yards and four touchdowns. The downside to this game for Georgia was that the defense allowed 454 yards, and those were almost evenly split between run and pass. The Bulldogs have asserted themselves as the team to beat in the east, but the defense needs to improve if they want to once again compete for a national title.
Kentucky (won 41-7 over Miami-Ohio)
This was a nice bounce-back win for Mark Stoops' Wildcats. There really never was any doubt for Kentucky. Quarterback Maxwell Smith threw for 310 yards and three touchdowns. Wide receiver Javess Blue had a big day, catching six passes for 114 yards.
LSU (won 56-17 over UAB)
There were very few interesting aspects to this game. UAB's defense was mediocre at best, so even with the nice win, it's hard to extrapolate this further for LSU's season. Tiger quarterback Zach Mettenberger put up very solid numbers, and LSU running back Jeremy Hill, who has been the subject of much offseason controversy, made his 2013 debut against the Blazers.
Ole Miss (won 31-13 Southeast Missouri State)
Ole Miss was just trying to get out of this one with the least amount of potential for damage, like injuries. The Rebels travel to Austin next week to play a Texas team that is in a free fall. You can bet coach Hugh Freeze will have his crew ready to go against the Horns.
Mississippi State (won 51-7 over Alcorn State)
It took a team like Alcorn State, but Mississippi State found a little bit of offense. Quarterback Tyler Russell was sidelined for this game as a result of an injury he incurred against Oklahoma State. Dak Prescott did a serviceable job in his stead. But State is going to have to make dramatic improvements from the week one game against the Cowboys if it expects to defeat an improving Auburn team this week.
Missouri (won 38-23 over Toledo)
Toledo has now started its season by giving two SEC teams more than they cared to handle. In week one, it took Florida quite a while to pull away from the Rockets. This week, Missouri was deadlocked in a tight contest well into the fourth quarter. Regardless, the Tigers head into an off week without a blemish. With Indiana and Arkansas State on the schedule when Mizzou returns to the field, the Tigers will not see an SEC team until October.
South Carolina (lost 41-30 to Georgia)
It was a very underwhelming week for South Carolina. After the 41-30 loss to Georgia, there are many questions that need answering. The top of that list would be about Jadeveon Clowney. Where has he gone? In 2012, he was clearly disruptive, but in the first two games of this season, his presence was hardly felt. I thought South Carolina had the best defense in the SEC coming into the season. That was a horribly mistaken conclusion. Georgia has great players at skill positions and a very good quarterback in Aaron Murray, but the Gamecocks giving up 220-plus yards both on the ground and through the air is absolutely inexcusable. Furthermore, the scuffle that took place between two Carolina assistant coaches is a very ominous sign as to the temperature of that program.
Tennessee (won 52-20 over Western Kentucky)
I was impressed with this win for Tennessee. Bobby Petrino's Western Kentucky team seemed to have the respect of some prominent prognosticators, who put the Vols on upset alert. It didn't seem to faze Butch Jones' team, which took advantage of seven Hilltopper turnovers.
Texas A&M (won 65-28 over Sam Houston State)
There was no real news in this game other than Texas A&M's defense gave up nearly 400 yards, which has become routine. Johnny Manziel was solid, as he always is, with 403 yards and three touchdowns. But there is no doubt that the defense is going to have to significantly improve before the Alabama game.
Vanderbilt (won 38-3 over Austin Peay)
Vanderbilt achieved a much-needed bounce back win. Now, the Commodores have to focus on getting and remaining healthy. Next up are the Gamecocks of South Carolina, who are very likely to be in a less than congenial mood. There is always the chance, though, that Carolina is still down because of the Georgia loss. In which case, Vanderbilt would have a chance to pull off the upset.