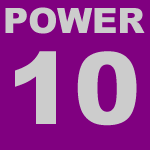 Week five in college football was very exciting. With several ranked-vs-ranked matchups, the Power 10 saw a lot of movement. Because of their losses, LSU and Oklahoma State dropped out of the standings. Louisville dropped out because it didn't play. I have been feeling for several weeks that Miami deserves to be in; their entry is not necessarily a result of the win over South Florida. And Oklahoma, with a win on the road against Notre Dame, has solidified itself as one of the teams to beat this year.
1. Alabama (won 25-0 over Ole Miss)
Alabama's defense seemed to find a rhythm against Hugh Freeze's up-tempo offense. While there were some issues offensively, it was a good performance for Nick Saban's team against a ranked opponent. The challenge for the Tide now is to remain relevant as they play inferior competition.
2. Clemson (won 56-7 over Wake Forest)
Clemson just keeps winning and doing it impressively. While Wake Forest is not a challenger in the ACC this year, it is still a conference foe. Clemson has positioned itself nicely going forward and is gearing up for the game of the year in the ACC when it hosts Florida State on October 19th.
3. Oregon (won 55-16 over California)
Oregon continues to impress. Winning conference games is not easy. Some bad news for the team is that star running back De'Anthony Thomas emerged from practice wearing a boot. Next up, the Ducks hit the road to play Colorado, and Thomas is unlikely to play in that game. His injury could be impactful going forward.
4. Stanford (won 55-17 over Washington State)
This was a very impressive beatdown by Stanford of an improving Washington State squad. I really thought Mike Leach and the Cougars had a shot at pulling the upset, but it was clear early that there was no chance of that happening. The Cardinal now travel to another part of Washington to play the Huskies, who provide a much more formidable challenge.
5. Ohio State (won 31-24 over Wisconsin)
This was by far the most important test Ohio State has had so far this season, and I think the Buckeyes passed with flying colors. Yes, they let the game get close at the end. But Wisconsin is a good team, and Urban Meyer's team manhandled them with effortless precision for three quarters.
6. Georgia (won 44-41 over LSU)
I still think LSU is a very good team. Because of their loss, they had to be moved out of the Power 10, and Georgia makes its first appearance in the standings this year. With three games against top 10 opponents in the books and a record of 2-1 in those, I think the Bulldogs are right back in the thick of the BCS discussion. Now they have to guard against complacency. Knoxville is the next stop for them.
7. Texas A&M (won 45-33 over Arkansas)
While Johnny Manziel continues to be more than impressive in leading the Aggie offense, the defense is where they have major issues. They gave up nearly 500 yards to Arkansas, and the game was competitive late. It's for that reason alone that I think there's still a good chance Texas A&M can lose.
8. Oklahoma (won 35-21 over Notre Dame)
Oklahoma flew under the radar throughout most of September, but they have my attention now. Bob Stoops' team got a revenge win by two touchdowns over Notre Dame in South Bend. That is impressive. If they can remain undefeated, they will begin to attract even more respect as a title contender. This weekend, they will host TCU in Norman.
9. Miami (won 49-21 over South Florida)
Beating South Florida this season is not a major accomplishment. However, Miami has been clipping along and now becomes one of three ACC teams in the Power 10. The Hurricanes are the team to beat in the Coastal Division. A home game against Georgia Tech this week will test their defense.
10. Florida State (won 48-34 over Boston College)
While Florida State is certainly on the right track with Jameis Winston and the offensive attack, there is still a long way to go. Boston College is on the rebound as well, and the Seminoles struggled with them in the early going, falling behind 17-3. A very competitive Maryland team comes to Tallahassee next.