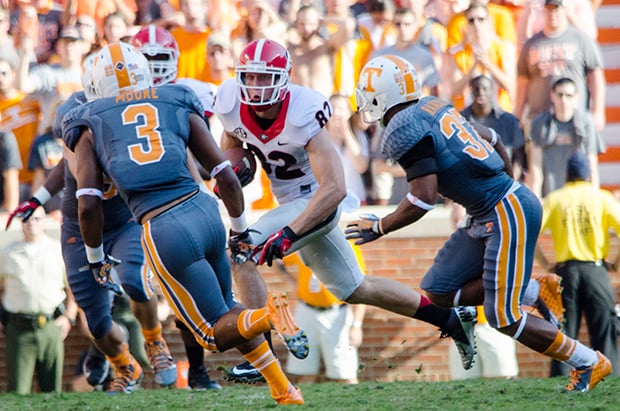 Week six in the Southeastern Conference saw a thriller in Knoxville won by Georgia in overtime. LSU and Florida got needed wins ahead of their clash next week. Missouri's undefeated streak didn't end at Vanderbilt. And Auburn continues to impress with a win over a ranked Ole Miss team.
Surprise of the week: Auburn has to be the most impressive team in the SEC to this point. As good as they had been, I didn't think the Tigers could get the win at home over Ole Miss. I continue to be proven wrong by Gus Malzahn's team.
Disappointment of the week: I expected Arkansas to be more competitive against Florida. Yes, the game was in Gainesville, but the Razorbacks needed to be competitive late in the game. They weren't. Bret Bielema's squad looks to still be on the very bottom tier of the league.
Performance of the week: Of all the SEC teams in action this week, Missouri's performance stood out the most. The Tigers are undefeated, and after last season's disappointment, some thought the trip to Vanderbilt would be a stumbling block. But Mizzou passed the test with flying colors and now looks toward a bigger prize in Athens.
Alabama 45 Georgia State 3
This was a typical one-sided win by a top team over a very inferior opponent. Alabama's passing game got some nice reps and padded their numbers, but you have to consider the competition. Up next for the Tide is a trip to Kentucky, where they are favored by nearly four touchdowns.
Auburn 30 Ole Miss 22
Auburn has exceeded my expectations for the way they would start the season. After the disastrous season last year that resulted in only three wins, the Tigers are 4-1 and were competitive in all contests. With a game against Western Carolina upcoming, Auburn is sure to be bowl eligible soon. Ole Miss started with so much promise. Victories at Vanderbilt and Texas gave the impression that the Rebels were turning the corner. Not so fast. Alabama's and Auburn's defensive units have completely shut down High Freeze's offense in consecutive weeks. So now the Rebels get set to face Texas A&M at home.
Florida 30 Arkansas 10
Tyler Murphy has played almost all of Florida's SEC season so far as the starting quarterback, and the Gators are 3-0 in conference play. Personally, I think the offense is looking more improved each week. The defense is still the best in the SEC and nationally. Will Muschamo will now get his team ready for a trip to Baton Rouge to face LSU. This will be a big test for Florida, but I think they will be very competitive in the game. Arkansas is still struggling on both sides of the ball. Another chance at getting a big win will come next week when South Carolina visits Fayetteville.
Georgia 34 Tennessee 31
This was one of the most thrilling SEC games of the year. The Volunteers seemed to have everything under control when the ball slipped out of the hands of Pig Howard as he reached for the goal line to go ahead of rival Georgia in overtime. Instead, Georgia hit a field goal several plays later to beat the Vols in Knoxville. Many Tennessee fans are probably wondering why these things happen so often to their program. While it was heartbreaking if you bleed orange, consider it a significant step toward the rehabilitation of the program. Georgia has a very difficult game this weekend at home against Missouri. With all of the offensive injuries, I think this game is very dangerous for the Bulldogs. Tennessee gets a much-needed off week to regroup.
LSU 59 Mississippi State 26
I thought LSU would struggle in this game coming off of the close loss at Georgia in week five. But, the Tigers showed up, played a methodical game and pulled away from the Bulldogs late. I continue to be impressed by the offensive firepower of this LSU team. They will need it in the upcoming game against Florida, which boasts the top defense in the nation. Even in the victory, though, LSU made some disturbingly errant plays on defense. Defensive coordinator John Chavis is going to have to continue to work toward getting the youth on that side of the ball to play with more consistency. Mississippi State continues to be average at best. They get a chance to play Bowling Green this week.
South Carolina 35 Kentucky 28
South Carolina is in a very precarious situation right now. While the Gamecocks have not been as dominant as I thought they would be, they have only lost one game. But star defensive end Jadeveon Clowney informed head coach Steve Spurrier that he wasn't playing shortly before the game Saturday. Will he be available during the rest of the season? Who knows. Kentucky seems to be improving each week, but the schedule seems to be getting more difficult with each passing week. Next week, Alabama comes to Lexington. Meanwhile, South Carolina will travel to Arkansas.
Missouri 51 Vanderbilt 28
While all of the national attention has been paid to other SEC teams, like Georgia, Alabama, LSU, Florida and South Carolina, Missouri has been flying under the radar, and the Tigers are undefeated. James Franklin is second in the SEC in total offense behind Johnny Manziel. I really like where Gary Pinkel's team is ahead of a trip to Athens to play Georgia. Vanderbilt's record is once again even on the year as the Commodores fall to 3-3. There is still an excellent shot for them to make a postseason game. They will host Georgia after an off week.