Remember when the SEC West was the king of college football? Seems like it was just a week ago. Here's a better one:  Remember when the SEC didn't have a team in the national title game? That was nine years ago.
For fans of the Southeastern Conference, New Year's Eve and New Year's Day had to feel like watching returns on an election night when your party is being trounced in state after state. There was hardly anything to celebrate.
It started Tuesday, when LSU went down at the hands of Notre Dame 31-28. Then, Ole Miss was embarrassed by TCU 42-3 in the Peach Bowl. Mississippi State was beaten decisively by Georgia Tech in the Orange Bowl 49-34. A year ago, Auburn was in Pasadena for the BCS Championship Game. Thursday, the Tigers lost 34-31 to Wisconsin in the Outback Bowl. And the SEC's postseason trials culminated with top-ranked Alabama being stunned by Ohio State 42-35 in the Sugar Bowl, eliminating the SEC in round one of the initial College Football Playoff.
Two years ago, Alabama and Auburn had won four consecutive national titles. Now, both schools have lost their postseason games for two consecutive years.
Sure, SEC East teams have had success in bowl games, along with Texas A&M and Arkansas. But as much as the states of Alabama and Mississippi were proclaimed as the epicenter of college football during the season, that narrative came to a fiery crash Wednesday and Thursday as all four teams from those states were upended.
If the argument for SEC supremacy comes down to bragging on the SEC East for being undefeated in bowl games, that's not a good place to be. We're talking about a division that has a combined overall record of 50-39. Compare that to the SEC West, which boasts a combined overall record of 62-30.
Pound-for-pound, the Southeastern Conference is probably still the best division in college sports by a significant margin, but as CBS analyst Spencer Tillman has said many times, today's world — particularly in college football — is all about images and perceptions. And right now, the perception of the SEC has taken a pretty significant hit.
Is it unfair for almost a decade of being the undisputed best to be questioned because of five bowl losses? Of course it is, but that is a consequence often unfair world of 140 character news cycles.
Here are a few of the national headlines:
There are a lot of people in the 'I-hate-the-SEC' line waiting to get their jabs in. They've been waiting a long time for a reason to do that, and now they've been provided with enough of one to make this offseason a referendum on SEC dominance.
Think about the irony of Urban Meyer being on both ends of Ohio State and the Big Ten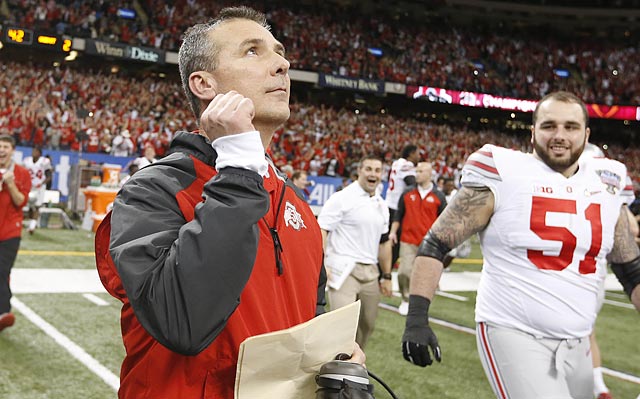 having success in the championship game. Meyer's 2006 Florida team destroyed the Buckeyes 41-14, which sort of started the downward spiral for that league. Thursday night, the now Meyer-led Ohio State team downed the most dominant program in college football as an underdog of greater than a touchdown. Enough can't be said about the job Meyer has done in Columbus. Coaches who seek to build an SEC-like culture at their program know they're emulating the best, and at some point, it will have enough of an effect to close the competitive gap between leagues.
There is some good news for SEC fans, though. Top to bottom, the SEC is still significantly better than the Big Ten, ACC, Pac 12 and Big 12. I don't think the margin is as wide as it was two, three or four years ago, but rest assured, the SEC is still king.
The bowl losses will provide these SEC West teams with added motivation in the offseason, and the last thing the rest of the country wants is that league with a chip on its shoulder. I can already hear the groans from Madison and Louisville (Wisconsin and Louisville have the unenviable task of opening with Alabama and Auburn next season).
No other part of the country awaits a football season and celebrates its arrival quite like SEC country. With all of the criticism that is sure to come the conference's way after the bowl losses, there will be even more anticipation for September 5th, 2015.