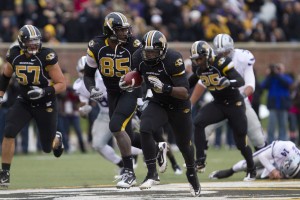 One of the biggest questionmarks heading into this football season surrounds how the SEC's newcomers will fare. Missouri has had a very good run since Gary Pinkel became head coach over ten years ago. He had built the Tigers into a perennial threat in the Big XII. Now, his program will transition to the top conference in America.
As it has been the past several years, Missouri will be an offensively oriented team this season. Quarterback James Franklin will have a significant impact on what kind of year the Tigers will have. The biggest unknown is on the defensive side of the ball. How will the Tigers compare to the other defenses in the SEC? To have a shot at making it to Atlanta for the SEC Championship Game, Missouri will have to have at least a somewhat competitive defense.
2012 Forecast:  I think Missouri will not truly learn how tough SEC play is until it has played one of the lower-tier teams in the conference. As expected Georgia, Florida and Alabama will be good competition, and the Tigers may even defeat one of them. But, I think reality will hit Missouri when it tangles with a team like Vanderbilt or Kentucky and it becomes clear that there are simply no off weeks in the Southeastern Conference. Sorry, but Kansas is no longer available for a beatdown.
Offensive player to watch:  #1 James Franklin – JR – quarterback
Defensive player to watch:  #25 Zaviar Gooden – SR – linebacker
Sept. 1 – Southeast Louisiana (Columbia) – Win 45-7
Sept. 8 – Georgia (Columbia) – Loss 24-20
Sept. 15 – Arizona State (Columbia) – Win 25-21
Sept. 22 – South Carolina (Columbia, SC) – Loss 28-16
Sept. 29 – Central Florida (Orlando) – Win 31-17
Oct. 6 – Vanderbilt (Columbia) – Loss 34-28
Oct. 13 – Alabama (Columbia) – Loss 35-17
Oct. 20 – Off
Oct. 27 – Kentucky (Columbia) – Win 38-17
Nov. 3 – Florida (Gainesville) – Win 31-20
Nov. 10 – Tennessee (Knoxville) – Win 27-21
Nov. 17 – Syracuse (Columbia) – Win 39-12
Nov. 24 – Texas A&M (College Station) – Win 34-24
Projected record: 8-4 (4-4)
I don't think the Tigers can overcome Georgia, Alabama, or South Carolina. I do believe that Mizzou can catch Florida at an inconvenient time. Wins over Texas A&M and Tennessee will be helpful, but I think a wakeup call is coming when it hosts Vanderbilt. All things considered, eight wins is a solid first year in the SEC.
*Home games are in BOLD