College Football Professor's 2012 Top 21 Preseason Ranking
What is the value of preseason rankings of College football teams? – Not much.  Projecting teams in college football before the first game is guess-work.  Why do we do it? – Just for fun.  College football fans anxiously wait for the season wondering how their team will perform and who will win the conference and national championships.  Since college teams average 30% turnover each year, looking for a repeat champion is faulty.  Even though no team has won back-to-back national championships in the BCS era, it is possible.  All of us could take advice from Ecclesiastes, "The end of a matter is better than its beginning, and patience is better than pride."  Enjoy the season!
The professor developed a formula to establish a 2012 preseason Top 21.
The formula:  Substance + Supplement + Synergy + Subjective Opinion = Top 211.
Substance – Value for the number of returning starters from the 2011 team multiplied by a percentage determined by the ending BCS final ranking for the 2011 season.

Supplement – Average ranking of the last 2 years recruiting classes (using the average ranking of 5 recruiting services as a means.

Synergy – Value for the top position group ranking (Quarterback, running back, offensive line, receivers, defensive line, linebackers, defensive backs and special teams)

Subjective Opinion – ranking of the top 21 using an average of four Top 25 preseason rankings
Adding the results from these four pieces gave each team its points.  The number of points determined the College Football Professor's Top 21 Preseason Ranking.
Today we will present 2 teams (Number 20 and 21)
20  Stanford – The Stanford Cardinal will be out of luck this year as in Andrew Luck who will be playing for the Colts in Indianapolis.  With Stepfan Taylor running the ball and David Yankey blocking Coach David Shaw's club will have a potent running game.  We might also see Barry Sanders Jr entering the fray.  Chase Thomas (LB) with help from Shayne Skov (LB) and Ben Gardner (DE) will give Stanford a very strong defense.  The big question for the Cardinal is the OL; however, they had tremendous success recruiting OL prospects Andrus Peat and Kyle Murphy.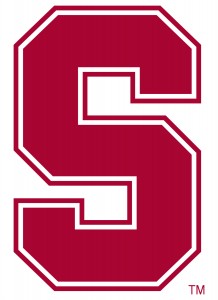 21  Nebraska – The Cornhuskers have found the Big Ten to be difficult.  Average may be a term that applies to them…2011 record 9-4, their recruiting has been average, their all time record against another red clad team Wisconsin is 3-3, and their Big Ten record last year 5-3.  One thing on the 2o12 team that will not be average is punter and kicker Brett Maher.  Coach Bo Pelini should have a good running attack with Rex Burkhead running behind the likes of OG Spencer Long and Kenny Bell should give Nebraska a pass receiving weapon.