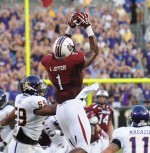 2011 was a historic season for the South Carolina football program. For the first time in its history, it won eleven games. Credit goes to head coach Steve Spurrier for making the Gamecocks a top-tier SEC program. As successful as last season was, South Carolina did not earn a spot in the SEC Championship Game, even though it beat every opponent from the SEC East.
The Gamecocks will be full of talent yet again this year. Quarterback Connor Shaw and running back Marcus Lattimore provide a lot of experience and talent on offense. Defensively, the team will be led by a strong defensive line. The problem for South Carolina is the schedule. From the SEC West, the Gamecocks have to travel to LSU and host Arkansas. Those are two tough draws.
2012 Forecast:  Regardless of the rigidity of the schedule, I think South Carolina can have another stellar season. The game with LSU will be a major contest, but even if it loses, I think it can still make it to Atlanta.
Offensive player to watch:  #21 Marcus Lattimore – JR – running back
Defensive player to watch:  #7 Jadeveon Clowney – SO – defensive end
Aug. 30 – Vanderbilt (Nashville) – Win 27-20
Sept. 8 – East Carolina (Columbia) – Win 38-14
Sept. 15 – UAB (Columbia) – Win 45-7
Sept. 22 – Missouri (Columbia, SC) – Win 28-16
Sept. 29 – Kentucky (Lexington) – Win 30-14
Oct. 6 – Georgia (Columbia) – Win 24-17
Oct. 13 – LSU (Baton Rouge) – Loss 21-17
Oct. 20 – Florida (Gainesville) – Win 31-21
Oct. 27 – Tennessee (Columbia) – Win 27-10
Nov. 3 – Off
Nov. 10 – Arkansas (Columbia) – Win 35-10
Nov. 17 – Wofford (Columbia) – Win 52-6
Nov. 24 – Clemson (Clemson) – Win 27-21
Projected record: 11-1 (7-1)
I think South Carolina will be very close to going undefeated this season. The stretch of games that includes Georgia, at LSU, at Florida, and Tennessee will be the pivotal point in the year. When all is played, I think the Gamecocks will be in Atlanta playing for a shot at the BCS Championship Game.
*Home games are in BOLD