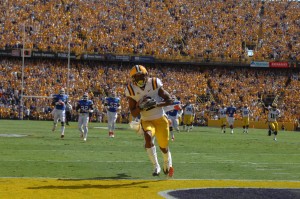 Time has moved on, but folks in Tiger country have undoubtedly not forgotten the crushing that was endured in early January at the hands of Alabama. Still, LSU has a ton to be proud about concerning last year. It won an SEC Championship, and it achieved an undefeated season, which is no small task in the SEC. But as bad as it hurt to lose that BCS Championship Game, it may prove as a benefit for the 2012 team when it comes to motivation.
This is not a reprint from last year or the year before:  LSU is stacked at almost every position. The Tigers could easily make another great run this season, but it will require proper guidance from a coaching perspective. Zach Mettenberger is supposed to be the starting quarterback, and he should fill the role nicely. The running back stable will be extremely potent, and there seems to be no drop off on defense. So, where is the weakness?
2012 Forecast:  The schedule is not easy, but it is manageable. And yes, I can see the Tigers going undefeated again. However, I don't see them implementing the kind of domination that was on display in 2011.
Offensive player to watch:  #11 Spencer Ware – JR – running back
Defensive player to watch:  #99 Sam Montgomery – JR – defensive end
Sept. 1 – North Texas (Baton Rouge) – Win 53-7
Sept. 8 – Washington (Baton Rouge) – Win 28-9
Sept. 15 – Akron (Baton Rouge) – Win 37-7
Sept. 22 – Auburn (Auburn) – Win 23-14
Sept. 29 – Towson (Baton Rouge) – Win 42-3
Oct. 6 – Florida (Gainesville) – Win 17-10
Oct. 13 – South Carolina (Baton Rouge) – Win 21-17
Oct. 20 – Texas A&M (College Station) – Win 34-12
Oct. 27 – Off
Nov. 3 – Alabama (Baton Rouge) – Win 27-21
Nov. 10 – Mississippi State (Baton Rouge) – Win 17-16
Nov. 17 – Ole Miss (Baton Rouge) – Win 29-10
Nov. 23 – Arkansas (Fayetteville) – Win 41-17
Projected record: 12-0 (8-0)
With almost the entire 2011 defense retuning, I don't think LSU will give up much this year. If there is a point when the Tigers could be brought down (other than the Alabama game), I think it has to be the contest at home against Mississippi State. But, I think LSU will once again sail through the regular season without a loss. This time, I imagine the postseason results will be different.
*Home games are in BOLD