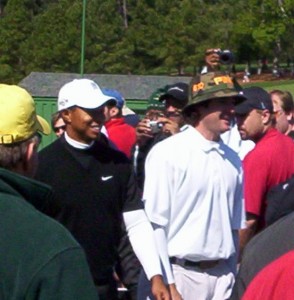 Sunday, Tiger Woods completed competition in his 66th major championship. With 14 major victories, Woods' resume is far superior to any other player in last weekend's field. But, those who have watched him closely in 2012 know that there is more to the story.
This past championship marked the second time in 2012 that Tiger has been tied for the lead at a major after the first two rounds. He finished outside of the top ten in both instances. At the Open Championship, Woods was in third place after two rounds, and he finished tied for third. History proves that his 36 or 54 hole score is important because Tiger has never won a major by coming from behind.
A reminder of what Tiger used to look like could have been found at the top of the leaderboard Sunday at Kiawah Island. Rory McIlroy's final round score ensured his breaking Jack Nicklaus' record for the largest margin of victory in PGA Championship history. In fact, both of McIlroy's major championship wins have looked eerily similar to the kind of domination displayed by Woods in the early 2000s.
Has the game passed Tiger? The answer to that question can be found within the tour statistics for the year. Woods is currently at the top of the money list, first in the "FedEx Cup" standings, first in scoring average, and he is the third-ranked player in the world. Tiger has won three times in 2012 (more than any other player on tour) so he is clearly doing positive things on the golf course.
That leads us to the question everyone wants answered:  Will Tiger break Jack Nicklaus' record of 18 major championship victories?
Some of my colleagues who cover the sport closely seem more skeptical that he will eventually reach that plateau as a result of what has happened since he returned to golf following the 'incident' and recovery from major knee surgery. The issue of not being able to finish majors did not start in 2012. In both 2010 and 2011, Tiger had better than decent chances to win at the Masters and elsewhere and came up short.
My feeling is that Tiger Woods will still win major championships. (Yes, that was plural). He was too close this year not to be considered one of the overall favorites for next, barring some unforeseen issue. For him, I believe it all comes down to one thing:  Mental toughness. In the past he would dominate his competition two ways. One way was on the leaderboard by blowing the field away in terms of strokes. The other was by sheer intimidation. I know it has become cliché, but how else do you explain other talented golfers (and major champions in some instances) failing to beat Tiger in major after major?
For Tiger to return to dominance, he must once again master what he used to do effortlessly well. It's not a 200 yard shot, not a 15-foot putt, not a choice of club, not a draw or a fade that plagues Tiger. When he re-establishes the steel-trap that was his focus on the golf course for many years, you will see the old Tiger again.