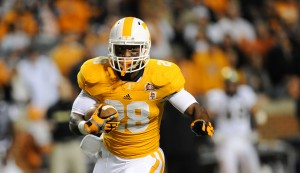 Tonight under the lights at the Georgia Dome in Atlanta, Tennessee will face-off against North Carolina State. This game will be pivotal for both head coaches. Tennessee's Derek Dooley has long been thought to be on the hot seat, and N.C. State's Tom O'Brien could also feel pressure if he does not produce a successful enough season. But for Dooley, the task is more urgent. Last year's losing season was hard enough for Volunteer fans to stomach, but the loss to Kentucky at the end of the season (which was the first to the Wildcats in more than 20 years) made it much worse.
The time is now for Dooley. I think a loss to North Carolina State in the opening game will seal his fate at Tennessee. This is the prototypical swing-game for the Volunteers. Both teams are coming off of several average seasons and are supposed to show improvement this year. And in games where the talent is nearly equal, coaching usually has a significant impact on the result.
Dooley has not been able to win big games. In his two seasons in Knoxville, he has a record of 0-6 against Tennessee's biggest rivals (Florida, Georgia, and Alabama). In my opinion, he will have trouble keeping his job if he does not beat one of those teams this year. But for now, he must beat North Carolina State.
Is there still time for Dooley to turn things around in Volunteer country? Of course, but it is running out quickly. Since the Vols open with N.C. State, play Florida at home in week three, and travel to Georgia in week five, a lot of conclusions will be drawn at the end of September.
We have seen the same story play out with college head coaches many times. If a coach at a major program becomes known for being able to win the swing-games, it usually means the end of his tenure will soon follow. Derek Dooley still has some capital to spend in Knoxville, but if he loses tonight, most of it will be spent.