If you have followed golf closely over the past couple of decades, you know the trials that Phil Mickelson has had at the U.S. Open.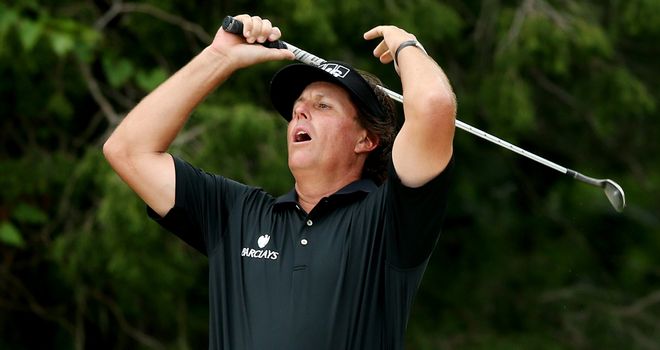 As England's Justin Rose hoisted the U.S. Open Trophy Sunday evening, one stat seemed to be on the tip of every tongue. By falling short in 2013, Mickelson added to his record number (six) of second-place finishes in the major that is the United States' national championship.
He had at least a share of the lead after each of the three opening rounds. He opened his final round with a par and a birdie before double bogeying two of the next three holes. From there, it was an uphill battle for Mickelson. The best moment came on the 10th hole, where he holed a 76-yard wedge shot from the rough to make eagle. At that point, he briefly reclaimed the lead.
I've watched Mickelson since well before he won his first major in 2004 at Augusta. He has never looked more dejected than Sunday night in his post-round interview. It wasn't just that Merion, which proved to be a much more formidable course than many predicted, got the best of him. It was that he had let that very elusive championship slip away yet again.
If he had won the tournament, it would have redefined Mickelson's legacy and where he will be remembered in golf history. If he had won, it would have been a perfect story of redemption after his infamous loss at Winged Foot in 2006. If he had won, a plaque would be placed at the spot on 10 where he hit that wedge shot.
But, as we know, he did not win. I will be an interested spectator to see where Phil's career goes from here.
His resume is still easily the second best of any player in the game today. He has four major championships — three Masters victories and one PGA Championship. He has 41 PGA Tour wins, which is ninth all-time.
If he cannot claim a U.S. Open victory in the future, it will undoubtedly be a cloud that will hang over his resume, considering his record second-place finishes. If his career ended today, I think Mickelson would probably be considered just outside the top 10 golfers in history.
There is one area where Phil stands above the rest in modern-day golf — popularity. The throngs of fans who followed him even before he won his first major are well-documented.
As the finishing stretch began in the 2013 U.S. Open, there was no doubt who the gallery wanted to see confront the toughest holes at Merion. And as I periodically scanned Twitter during the final round, the sentiment was almost unanimous in support of Mickelson.
He is the fan favorite for several reasons. First, his style of play is fun to watch. When he comes to a driveable par four, one never knows how he will go about attacking the hole.
Second, he possesses the uncanny ability to pull off the extraordinary when the chips are down. He will try the most inconceivable shots, and they will succeed more often than not. And it seems, by his various reactions, that he is watching his shots as a fan, like all of us. I don't know about you, but I find it more fun and entertaining to watch a golfer who shows emotion than one who stares stone-faced at every shot.
But the main reason he has such popularity with golf fans is the way he presents himself. You can catch him signing autographs after just about every round he plays, even during majors. His media interviews are always very thorough, even after the most disappointing loss of his career.
I think Phil Mickelson makes a concerted effort to present himself as an honorable ambassador for the game of golf in an era when other greats have not represented the game well. For that reason, I think he could be remembered as one of the most beloved figures in the game.
I'm not trying to eulogize Mickelson's career. He is playing well and certainly seems to have good golf ahead of him. After his third round, he told the media that he is playing the best golf of his career.
But there is more than a decent possibility that he will never get a better shot at claiming the title that he has said he covets the most. On the other hand, if he is able to win the U.S. Open at some point down the road, how much sweeter would it be for him?
Contact Jacob Bunn at jacob@bunnsports.com