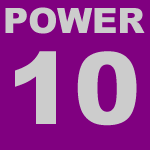 Week two provided a few minor surprises but no major changes. South Carolina tumbled out of the Power 10 after a 41-30 loss to Georgia. Florida State moved into the standings. With an impressive win on the road, Oregon trades spots with Clemson to rise to second. But those two are very close. It will be very interesting to see what next week's standings look like after the conclusion of the Alabama/Texas A&M game.
1. Alabama (off)
No change for Alabama, which had the week off. The future of the Crimson Tide's standing and whether or not it can remain on top will be determined by the upcoming game with Texas A&M.
2. Oregon (win 59-10 over Virginia)
Oregon moves from third to second in the Power 10 after its impressive 49-point road victory over the Cavaliers of Virginia from the ACC. With a win over Tennessee in week three, expect the Ducks to remain in second or move to the top spot, given an Alabama loss to Texas A&M.
3. Clemson (win 52-13 over South Carolina State)
Following the huge win over Georgia in week one, Clemson had no let down against South Carolina State. There will be more tests down the road, but the Tigers have, for now, firmly secured a spot in the upper portion of the Power 10.
4. Texas A&M (win 65-28 over Sam Houston State)
Despite giving up nearly 400 yards on defense, Texas A&M handled Sam Houston State with ease. With South Carolina's loss, the Aggies move into the top four ahead of the monumental matchup with top-ranked Alabama.
5. Stanford (win 34-13 over San Jose State)
I really liked Stanford before the season, and after not playing on opening weekend, the Cardinal did what it had to but no more in its season opener against San Jose State. Overall, the jury is still out on this team.
6. Ohio State (win 42-7 over San Diego State)
I was not impressed with the Buckeyes in week one, and their performance in week two did little to change my mind. Ohio State is going to have to knock off a decent team on the road, and an opportunity to do that just happens to come this weekend against Cal. Whether or not Braxton Miller can provide significant minutes, this game will give the Buckeyes an opportunity to prove their worthiness.
7. LSU (win 56-17 over UAB)
LSU is a team with enormous potential and a brutal schedule. Opponents like UAB and Kent State, which is up next, help the Tigers iron out any issues on either side of the ball before entering the brutal stretch of SEC games to come.
8. Oklahoma State (win 56-35 over Texas San Antonio)
Count me unimpressed with the Cowboys' 56-35 win over UTSA. I think Oklahoma State is primed for a formidable season, and the opening win over Mississippi State was a good start. Still, there are a lot of questions to be answered.
9. Florida State (off)
After a Monday night game on Labor Day to open the season, Florida State had the week off ahead of its game against Nevada. Jameis Winston certainly showed the nation that he is more than capable of handling the Seminole offense. With Miami, Clemson, and Florida on the schedule, Jimbo Fisher's team will have its work cut out for it.
10. Louisville (win 44-7 over Eastern Kentucky)
Louisville put another impressive win in the books, but it was, once again, against considerably inferior opposition. The Cardinals will have opportunities to move up the ladder, but beating EKU isn't going to get it done. This week, the Cardinals travel to Lexington to play Kentucky. That is an opportunity for this team to impress.