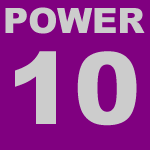 No teams dropped out of the Power 10 after week four, but there were some changes in position. Clemson and Oregon once again swap spots. After a big win over Arizona State, Stanford climbs to fourth. LSU rises also with a 35-21 win at home over Auburn.
1. Alabama (won 31-6 over Colorado State)
As 25-point victories go, Alabama did not look particularly impressive against Colorado State. There are issues that need to be corrected for the Tide to sail through a win over Ole Miss this weekend.
2. Clemson (won 26-14 over North Carolina State)
Clemson jumped back over Oregon after winning what I consider to be an impressive road win. While North Carolina State is by no means a BCS contender, they were no doubt prepared to face a very good Clemson team at home on a Thursday night. This is the kind of game the Tigers might have dropped in the past.
3. Oregon (off)
With an off week, Oregon allows Clemson to move up. But the Ducks can continue to make a case for one of the top two spots with a win this weekend at home against Cal.
4. Stanford (won 42-28 over Arizona State)
Until the past weekend, it was very difficult to get an accurate gauge on Stanford because of the inferior opponents the Cardinal had played. That changed with a ranked Arizona State team, and David Shaw's team smoked the Sun Devils. This weekend the Cardinal will travel to Washington to face a very dangerous Washington State team. Getting out with a win would be a successful trip, regardless of the final score.
5. LSU (won 35-21 over Auburn)
LSU keeps gaining respect with each win. Auburn is a team on the rise, and Les Miles' team jumped out to a 21-point lead. The game was seemingly never in doubt after that point, even though Auburn did make it close late. This will be another make or break week for LSU as they travel to Athens to face the Georgia Bulldogs.
6. Ohio State (won 76-0 over Florida A&M)
Beating Florida A&M is not going to allow you to climb in the polls. Ohio State has played one difficult game so far, a trip to California. However, the Buckeyes are set to play two major big ten games — a home game against Wisconsin and a trip to Northwestern. These two games will begin to indicate whether or not they are a legitimate BCS Championship contender.
7. Texas A&M (won 42-13 over SMU)
Texas A&M achieved another win over an inferior team with a win over SMU. Manziel continued to shine with a rushing and one passing touchdown. However, he did throw one interception. The Aggies will get back into SEC west play this weekend at Arkansas.
8. Oklahoma State (off)
The Cownoys had the week off. After slaughtering Lamar the week before, they have basically had two consecutive off weeks. They will now travel to Morgantown to face a mild challenge in West Virginia. However, the Mountaineers have been very underwhelming so far. I expect Oklahoma State to keep rolling.
9. Florida State (won 54-6 over Bethune-Cookman)
The Seminoles, led by quarterback Jameis Winston, probably didn't break a sweat against the Wildcats of Bethune-Cookman. I still think the 'Noles are one of the 10 best teams and have an excellent shot at competing for the ACC title. They now have to take care of Boston College on the road, Maryland at home, and then the big matchup at Clemson after an off week.
10. Louisville (won 72-0 over Florida International)
Teddy Bridgewater threw four touchdown passes in Louisville's blowout win over FIU. And while the offensive attack is the strength of the Cardinals' team, their defense is actually ranked third in the nation. They held the Golden Panthers to just 30 yards. Still, Charlie Strong is needs to keep his team winning by large margins in order to gain respect in national polls.