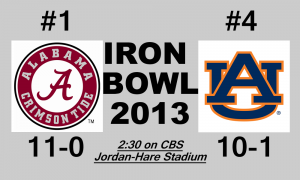 Rivalries belong to college football. Sure, there are important rivalries in other sports. In Major League Baseball, there's Yankees vs. Red Sox. In the NFL, there's Washington vs. Dallas. In the NBA. there's Celtics vs. Lakers. In college basketball, there's North Carolina vs. Duke. Other sports have great rivalries, but college football is driven by them.
College football thrives on tradition, passion, history and pageantry. Rivalry games demonstrate the best of those qualities.
There are tremendous rivalries on all levels of college football. Whether it's Williams vs. Amherst, Harvard vs. Yale, Washington vs. Washington State, or Ohio State vs. Michigan, rivalry games are always more meaningful than other regular season contests.
Over time, there has been much debate about what is the best rivalry in college football. I believe one clearly stands above the rest.
On February 22, 1893, the University of Alabama played Auburn University (then the Agriculture and Mechanical College of Alabama) played the first football game against one another. Auburn won the game 32-22. 76 meetings and 120 years later, the top-ranked, undefeated Alabama Crimson Tide will pay a visit to the fourth-ranked, once-beaten Auburn Tigers.
If you have never lived in or spent a considerable amount of time in the state of Alabama, you probably don't understand this rivalry. It has a remarkable history of great moments, plays, players and coaches. The two fanbases go back-and-forth — literally — 365 days a year. In late June, you could easily find an argument about whether Alabama's or Auburn's offensive line possesses more big game experience on WJOX, Birmingham, Ala.'s sports radio station.
This rivalry has provided a Thanksgiving spread's worth of indelible memories.
In 1971, Alabama and Auburn played each other for the first time as two undefeated teams.
In 1972, Alabama punted one too many times.
In 1981, coach Paul 'Bear' Bryant won his 315th victory against Auburn.
In 1982, young Auburn running back Bo Jackson went "over the top" of the Alabama defense.
In 1983, Bo Jackson set the Iron Bowl rushing record.
But in 1984, Bo went the wrong way on fourth down, and Alabama won.
In 1985, Alabama kicker Van Tiffin made an improbable 52-yard kick to win.
In 1986, Auburn wide receiver Lawyer Tillman scored on a reverse play that remains one of the best radio calls of all time by late Auburn radio legend Jim Fyffe.
In 1989, Auburn hosted the Iron Bowl at Jordan-Hare Stadium for the first time ever (previously it had been played at Legion Field in Birmingham every year) and won the game 30-20.
In 1993, sixth-ranked Auburn beat 11th-ranked Alabama to finish the season undefeated and give Alabama only its second loss of the year.
In 1996, Alabama came from down six in the fourth quarter to win the game 24-23 in what was then head coach Gene Stallings' last Iron Bowl.
From 2002 to 2006, Auburn racked up a streak of six straight on the Tide, which will remain former Tiger coach Tommy Tuberville's greatest legacy while there.
Lately, this rivalry has proven itself the best by quite literally taking over college football. Over the past four years, the winner of this game has gone on to become the BCS champion.
In 2009, Alabama fell behind 14-0 early and had to claw out a tough 26-21 win.
In 2010, Auburn fell behind 24-0, and then Cam Newton's passing game led the Tigers to a remarkable 28-27 victory.
In 2011, Alabama pulled away from Auburn in the second half to win 42-14.
Last year, a depleted and demoralized Auburn team was thumped by eventual national champion Alabama 49-0 in Tuscaloosa, and some had began to wonder if the rivalry was as great as it used to be. Then came this season. Auburn was projected by many, including me, to only win seven or eight games, which would in itself be a dramatic improvement over last year's 3-9 record. In my wildest dreams, I did not see Auburn coming into the Iron Bowl with the resume they have achieved this year.
Who knows whether Saturday's game will live up to the enormous amount of hype it has received? We may not see an Iron Bowl with the kind of implications this one has for a while, but you can bet the rivalry will be part of the national conversation again next year.