Michigan fans got what they wanted for Christmas — Jim Harbaugh, formerly the head coach of the San Francisco 49ers, is coming to Ann Arbor.
When Nick Saban was hired at Alabama in 2007, it changed the trajectory of the SEC. We can argue about how deep the impact of his hiring has been felt, but there's no mistaking a significant alteration in the mindset of the league as a whole. In the same way, Jim Harbaugh coming to Michigan has an opportunity to completely change the competitive dynamic in the Big Ten, a league that could desperately use such an improvement.
Since Urban Meyer was hired before the 2012 season, it has been his Ohio State team and everyone else in the Big Ten. The league has not only suffered from a major identity crisis during the past decade, it has found itself more than a full step below the gold standard in college football — the SEC. There are many factors that go into why this depression has occurred, one being the fact that the game's best coaching minds are in other conferences.
Is Jim Harbaugh a cure-all for the league? Certainly not, but his arrival is revolutionary on many levels.
Harbaugh hasn't exactly flamed out as an NFL coach. He leaves San Francisco with a record of 44-19-1, which is tied for fourth-most wins by a a head coach in the first four seasons of his career (according to ELIAS Sports).
Prior to his work in San Francisco, Harbaugh took a Stanford program that had endured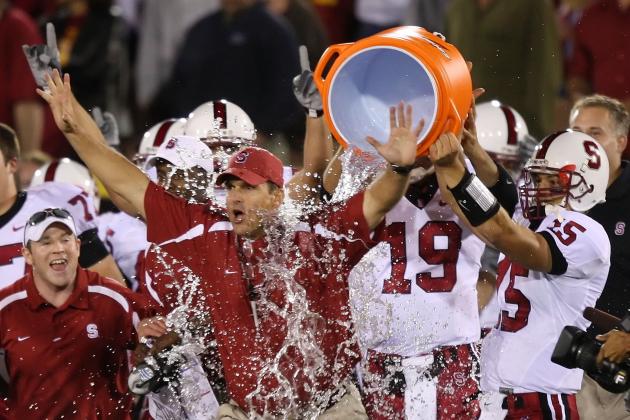 five consecutive losing seasons and compiled a 29-21 record, including an appearance in a BCS bowl. There were some memorable moments during his tenure in Palo Alto, including in 2007 when his Cardinal were 41-point underdogs at USC. They exited the Coliseum with a 24-23 victory over Pete Carroll's top-ranked Trojans.
He's an experienced head coach who has had a tremendous amount of success at more than one level of football.
The Harbaugh hire will begin to rehabilitate three major brands overnight. Michigan is a proud, tradition-rich program, but it is has been searching for an answer to turn its suffering football team back into a winning machine. Harbaugh adds instant credibility with all who matter — the boosters, those who pack the Big House on Saturdays wearing maize and blue, and most importantly recruits.
The hiring of Jim Harbaugh at Michigan is also a chance to elevate Big Ten football's competitiveness in a major way. This is a league that has not only fallen behind the SEC, it has become second-fiddle to the Pac 12 and Big 12. One of the main discrepancies has been the lack of big-name coaches in the league. Now with Harbaugh and Meyer at Michigan and Ohio State, the other 12 programs will be forced to keep up or be reduced to irrelevance. Remember, just in the last decade, the SEC has had to make some major coaching changes in order to competitively keep up with the times.
In addition to improving Wolverine football and the Big Ten, this hire will also restore the Ohio State/Michigan rivalry to what it should be. Just imagine the intensity of Harbaugh and Meyer going after top prospects in the region and nationally. Then picture what the rivalry, which has not of late been what it used to be, would look like with the two legendary coaches attempting to out-maneuver and out-strategize one another on the field. It would be restored to appointment television.
There are conflicting reports about exactly what his salary will be. One thing I know is it will be more than enough to buy an adequate supply sharpies and pairs of khakis for his new gig. But what we don't need is a bunch of trumped-up faux-outrage over the numbers that precede the zeros. Whatever it is, Harbaugh will probably be worth far more immediately upon his arrival.
In short, this hire is a tremendous one for the University of Michigan. But I think it will end up having a far greater impact than just within the limits of the Great Lake State.
Editor's note:  This post has been updated to correct a typo.