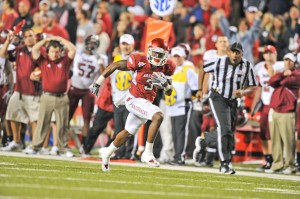 Last season, Arkansas was only defeated by the top two teams in the nation, Alabama and LSU. In Addition, the Razorbacks achieved a nice victory in the Cotton Bowl over Kansas State. Things were rolling along very smoothly in Fayetteville until April, when head coach Bobby Petrino was fired because of a confluence of events surrounding his involvement in an inappropriate relationship with a female subordinate.
Because of the scandal, there will be an unmistakable cloud over the 2012 team for a while. Plus, there will be a coaching void without Petrino in charge. John L. Smith is now in charge of the program. Quarterback Tyler Wilson, who is considered a top prospect for the 2013 NFL Draft, is a tremendous asset. Knile Davis, the Razorbacks' talented running back, will also be a part of the offense. There will be weapons on the team, but without Petrino in charge of strategy, the utilization of them may not be as effective.
2012 Forecast:  I think Arkansas' season will be underwhelming to Razorback fans. The lack of a long-term head coach will prove to be a major disadvantage.
Offensive player to watch: #8 Tyler Wilson – SR – quarterback
Defensive player to watch: #45 Alonzo Highsmith – SR – linebacker
Sept. 1 – Jacksonville State (Fayetteville) – Win 38-0
Sept. 8 – Louisiana-Monroe (Fayetteville) – Win 42-9
Sept. 15 – Alabama (Fayetteville) –Loss 28-20
Sept. 22 – Rutgers (Fayetteville) – Win 20-14
Sept. 29 – Texas A&M (College Station) – Win 14-10
Oct. 6 – Auburn (Auburn) –Loss 28-13
Oct. 13 – Kentucky (Fayetteville) – Win 24-0
Oct. 20 – Off
Oct. 27 – Ole Miss (Little Rock) – Win 31-28
Nov. 3 – Tulsa (Fayetteville) – Win 27-17
Nov. 10 – South Carolina (Columbia) –Loss 35-10
Nov. 17 – Mississippi State (Starkville) –Loss 28-17
Nov. 23 – LSU (Fayetteville) –Loss 41-17
Projected record: 7-5 (3-5)
I don't think Arkansas faithful will be terribly disappointed with losses to Alabama, South Carolina, and LSU. The toughest part will be defeats by Auburn and Mississippi State. No championship trophies will be heading to Hogland after the 2012 season.
*Home games are in BOLD