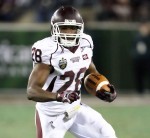 I don't think many Mississippi State fans would characterize the 2011 season as a disappointment. However, it was not an overwhelmingly strong year either. After a 6-6 regular season record, the Bulldogs defeated Wake Forest in the Music City Bowl 23-17. Mississippi State has still not beaten an SEC West team not named Ole Miss under the management of Dan Mullen. Auburn was a close call early in the year, but the Tigers still came away with the win.
This is the year that Dan Mullen needs to take his team beyond the barriers that have held previous Bulldog squads back. With Kentucky and Tennessee as the two SEC East opponents, I think Mississippi State can possibly get to a very nice number of wins at the end of November.
2012 Forecast:  I think State will impress this year. I think Auburn and Arkansas are winnable games on the divisional side. Plus, MSU does get to play Alabama and LSU at precarious times for both of them. The climate could be just ripe enough for an upset.
Offensive player to watch:  #1 Chad Bumphis – SR – wide receiver
Defensive player to watch:  #97 Josh Boyd – SR – defensive tackle
Sept. 1 – Jackson State (Starkville) – Win 35-0
Sept. 8 – Auburn (Starkville) – Win 31-30
Sept. 15 – Troy (Troy) – Win 24-14
Sept. 22 – South Alabama (Starkville) – Win 49-3
Sept. 29 – Off
Oct. 6 – Kentucky (Lexington) – Win 18-14
Oct. 13 – Tennessee (Starkville) – Loss 21-14
Oct. 20 – Middle Tennessee State (Starkville) – Win 37-6
Oct. 27 – Alabama (Tuscaloosa) – Loss 20-10
Nov. 3 – Texas A&M (Starkville) – Win 26-17
Nov. 10 – LSU (Baton Rouge) – Loss 17-16
Nov. 17 – Arkansas (Starkville) – Win 28-17
Nov. 24 – Ole Miss (Oxford) – Win 28-24
Projected record: 9-3 (5-3)
A 9-3 overall record will be a very nice outcome for Mississippi State. I think it will beat Auburn and Arkansas. Plus, I think it will scare Alabama and LSU. After its open week, I think Tennessee will get the better of Mississippi State. That will prevent the Bulldogs from reaching that ten win threshold.
*Home games are BOLD