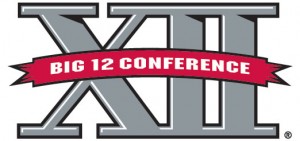 The Big 12 has a number of teams who are BCS-caliber programs, but the round-robin nine-game league schedule could cause some of the top teams to beat each other, eliminating them national title contention. The usual suspects, Texas, Oklahoma, Oklahoma State, Kansas State, and West Virginia will all be contenders for the league title.
Top Big 12 playmaker in 2013: Lache Seastrunk (RB – Baylor)
Baylor running back Lache Seastrunk came through in pivotal situations for the Bears in 2012. His ability to create big plays cannot be undervalued. He rushed for 1,012 yards last year on 131 carries, and he scored eight total touchdowns. I think the Bears are in for another winning season this year, but their success will be dependent upon keeping Seastrunk healthy.
Most disappointing team: Kansas
Charlie Weis has done little to change the underachieving culture surrounding the Kansas football program since he arrived in Lawrence in December of 2011. If his team's abysmal 1-11 record last year wasn't bad enough, I don't think his team will win a single conference game this season. Is it possible for a coach at a major school to get fired after just two years because of his record? I think we will know the answer to that in December.
Surprise team: Texas Tech
Tommy Tuberville didn't leave the Red Raiders in pitiful condition when he departed to take the Cincinnati job. There are plenty of quality players and athletes in Lubbock for Kliff Kingsbury's first season. After the whirlwind ride with Johnny Manziel and company last year in College Station, some thought it might have been a bit premature for Tech to hire Kingsbury. I understand the inexperience factor, but I think he will have success at Texas Tech, starting this season.
Top two games to watch:
Oklahoma State at Texas in week 12 is a game that I have circled. If Texas can beat Oklahoma, there is a better than decent chance that both of these two teams could be undefeated when they meet in Austin.
Bedlam between Oklahoma and Oklahoma State will also be a must-watch. These two teams could likely be competing for the league title and a BCS berth until the final weekend, when they face off.
Big 12 standings:
Texas 10-2 (7-2)
Oklahoma State 10-2 (7-2)
Oklahoma 10-2 (7-2)
Kansas State 8-4 (5-4)
West Virginia 7-5 (5-4)
TCU 6-6 (4-5)
Baylor 7-5 (4-5)
Texas Tech 6-6 (3-6)
Iowa State 5-7 (3-6)
Kansas 3-9 (0-9)
Big 12 Champion: Texas
Texas should be a national title contender every year. There's no excuse for a program that has the recruiting pipeline that the Longhorns do to suffer as they have for the past few years. I think there will be a turnaround this year. By virtue of a tiebreaker, I think Mack Brown's team will win the Big 12 and return to a BCS bowl.