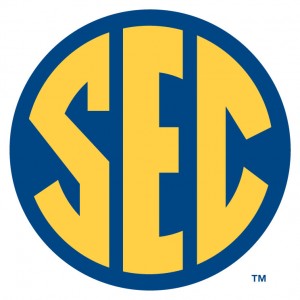 Can one of Alabama's eight SEC opponents dethrone the Tide? That is the most significant question looking at this season. Most think a road game against Texas A&M and a home game against LSU are the biggest stumbling blocks to the Tide this year.
In the east, the question is whether Georgia will reach Atlanta with a slightly more difficult schedule. Or can South Carolina, Florida or a surprise team get there?
Top SEC playmaker in 2013: Jadeveon Clowney (DL – South Carolina)
The problem with picking Johnny Manziel for this category is that he may not be eligible. Instead, I must go with a defensive player, South Carolina's Jadeveon Clowney. I think he will be a Heisman contender, and I think he will contribute mightily to a successful South Carolina season.
Most disappointing team: Florida
After last year's 11-2 finish, despite the shellacking inflicted by Louisville in the Sugar Bowl, Florida fans will expect the same success, if not improvement. I don't think that will happen. Instead, I see the Gators winning seven games and losing five. The out-of-conference matchup with Miami on September 7th will be the first crucial game. Then, they get an off week before the always intense (regardless of each team's record) Tennessee game. In week 7, the Gators travel to Baton Rouge; in week 10, the rivalry game with Georgia takes place. To conclude the season, a trip to South Carolina is followed up two weeks later by rival Florida State visiting Gainesville. There just isn't much room to breathe on Florida's schedule. Therefore, I don't think Will Muschamp's team will achieve a double-digit win total again.
Surprise team: Missouri
Last year, Texas A&M shocked everyone in the college football world with its incredible run that almost landed it in Atlanta. So the big question is which team will be this year's Texas A&M. I think the answer is found in the other school that is entering its second year as an SEC member — Missouri. I like what the Tigers have returning, particularly quarterback James Franklin, who was hampered with injuries last year. Gary Pinkel's team was embarrassed several times last year, and I think many in the SEC have probably gone to sleep on them. When regular season is over this year, I think Missouri will end up with nine wins.
Top two games to watch:
As the years go by, one game seems to continue to be the must-see game each year — LSU/Alabama. This year's edition in Tuscaloosa should not disappoint. The Tide could very easily be undefeated coming into the game. The winner of this game has gone on to appear in the SEC Championship Game in four of the past five seasons, and in 2011, the two faced off for the BCS Championship in an unprecedented inner-conference title game.
When looking at the SEC East this year, the South Carolina at Georgia game stands out as the most significant contest in determining which team will represent the division in Atlanta. South Carolina currently has a three game winning streak on Georgia, but don't think the Bulldog faithful won't be acutely aware of that fact when they welcome the Gamecocks to town on September 7th.
SEC West standings:
Alabama 11-1 (7-1)
Texas A&M 10-2 (6-2)
LSU 10-2 (6-2)
Mississippi State 7-5 (4-4)
Auburn 7-5 (3-5)
Ole Miss 6-6 (2-6)
Arkansas 5-7 (1-7)
SEC East standings:
South Carolina 11-1 (7-1)
Georgia 10-2 (6-2)
Missouri 9-3 (5-3)
Florida 7-5 (4-4)
Tennessee 6-6 (3-5)
Vanderbilt 5-7 (1-7)
Kentucky 3-9 (0-8)
SEC Championship Game: Alabama 38 South Carolina 35
I know I'm really going out on a limb by predicting the Tide to win, but the schedule sets up nicely for a return trip to Atlanta. I think South Carolina will beat Georgia early in the year, giving them the Eastern Division. A South Carolina/Alabama matchup would certainly be worth seeing. The game could go either way, but I think Nick Saban's team will outlast the Gamecocks, putting it in the BCS title game once again.